Mobile One-Stop Center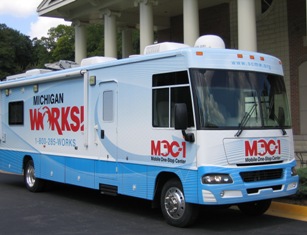 The MOC-1 (Mobile One-Stop Center) is a multi-functional, state-of-the-art, mobile training facility available for tutorial or skills education. Each PC is loaded with up-to-date Michigan employment career software to further help students and jobseekers build their skills and connect them to quality jobs.
Equipped with networked PC workstations, direct internet access, a mini-conference room, multimedia presentation resources, external training facilities and full ADA accessibility, the MOC-1 mobile training facility is ready for any type or style of training required.
Each workstation is loaded with the latest Microsoft Office Pro software offering the greatest leverage for Basic, Intermediate and Advanced training in using 21st Century office techniques. Including training and certified testing for the Microsoft MOS Certification program.
Facilities are capable of handling specialized software if proprietary training is required for your specific software needs. Competent, certified technical support or installation and troubleshooting is available upon request.
Click on the following below for more information: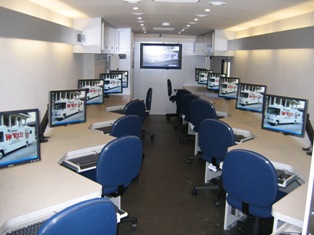 For more information contact Justin Gifford at 517-403-1896 or email at jgifford@scmw.org
To schedule an event or events please submit Moc-1 Scheduling Form.